E-cigarettes and e-liquids must now have a warning label. The U.S. Food and Drug Administration (FDA) now requires a label on tobacco products warning that nicotine is addictive, beginning August 10, 2018, with a 30-day grace period. The requirement reflects the FDA's concern about rising e-cigarette use among young people. This client alert briefly reviews the FDA's history of regulatory authority over e-cigarettes, recent regulatory and enforcement actions, and the new labeling requirement.
1. A Brief History of the FDA's Authority Over E-cigarettes: Defining "Tobacco Product"
The FDA was first granted legal authority to regulate tobacco products in 2009, by the Family Smoking Prevention and Tobacco Control Act. The law defined "tobacco product" broadly, to include, in relevant part, "any product made or derived from tobacco that is intended for human consumption, including any component, part, or accessory of a tobacco product."1 The definition of "tobacco product" includes any product made or derived from tobacco. Among other things, the law requires FDA "premarket authorization" for tobacco products, although in some instances new products can be sold while waiting for the FDA to work through a sizeable backlog of applications.
In May 2016, the FDA issued a "deeming rule" specifying that its regulatory authority under the 2009 law extends to e-cigarettes and other electronic nicotine delivery system (ENDS) products ("e-cigs"), as well as e-liquids. The FDA characterized the rule as a foundational step to "improve public health and protect future generations from the dangers of tobacco use," with several measures, including restricting the sale of these tobacco products to minors.2 The rule subjects e-cigs to virtually the same regulatory requirements as traditional, combustible cigarettes. Products that do not contain nicotine or other substances made or derived from tobacco, like the coils of an e-cigarette or certain e-liquids, may still fall under the deeming rule as a "component, part, or accessory of a tobacco product." However, the FDA has stated that a pipe or an ENDS atomizer sold without liquid nicotine are not considered covered tobacco products.
2. A New Plan by the Trump Administration
In July 2017, the FDA announced a new "comprehensive regulatory plan," shifting its regulatory focus to combustible cigarettes and easing some compliance deadlines for e-cigs. The FDA recognized that nicotine, though highly addictive, "is delivered through products that represent a continuum of risk and is most harmful when delivered through smoke particles in combustible cigarettes."3 As the FDA explained this year, "to successfully address cigarette addiction, we must make it possible for current adult smokers who still seek nicotine to get it from alternative and less harmful sources."4
As part of the focus on combustible cigarettes, the FDA announced that it is exploring new standards to lower nicotine in cigarettes to minimally or non-addictive levels. As to e-cigs and e-liquids on the market as of August 8, 2016, the FDA delayed the requirement for a rigorous approval process to remain on the market.5 Products marketed after that date are still subject to premarket approval. The FDA also announced ongoing regulatory work to help streamline compliance with the approval process.6
Although easing some compliance burdens, the FDA expressed concern about marketing of e-cigarettes to children and the role that flavors have in attracting young users. In a notice of proposed rulemaking, the FDA announced that it is considering limits on advertising or promotion of tobacco products with flavors, access to tobacco products with flavors, and/or labeling of tobacco products with flavors. The notice reflects the FDA's effort to balance concerns over "kid-appealing flavors" with the benefit of flavors that are "helping some smokers switch to potentially less harmful forms of nicotine delivery."7 The FDA aims to address the "troubling reality . . . that e-cigarettes are the most commonly used tobacco product among middle and high school students, and flavors are identified as one of the top three reasons for use."8
3. Youth Tobacco Prevention Plan and a Blitz of Enforcement Actions
As a follow-up to its Comprehensive Plan, the FDA announced an enforcement blitz in April 2018.9 The FDA Commissioner stated that enforcement actions are needed to address the "troubling reality" that "e-cigarettes have become wildly popular with kids" and "because as we know the nicotine in these products can rewire an adolescent's brain, leading to years of addiction." Compliance checks revealed 40 violations for illegal sales of e-cigarettes to youths.10 The checks focused on small e-cigarettes that are easily concealed, which the FDA believes makes them popular with kids and teens, including the JUUL brand devices that resemble a USB flash drive.
The FDA also sent a letter to JUUL requesting information on the "youth appeal" of its products, including marketing materials and documentation on design features and ingredients.11 In May of 2018, the FDA issued requests to additional e-cig makers that market "e-liquids that contain nicotine salts with corresponding high nicotine concentration," market small devices that are "easily concealable," and market products with "design features that are intuitive, even for novice users."12
Additionally, the FDA and FTC issued warning letters in May to 13 companies that sold e-liquids with labeling and/or advertising that resembles "kid-friendly" foods. For example, the FDA targeted the manufacturer of Pink Sticks e-liquid (below left, Exhibit A), shown beside a package of Pocky Strawberry biscuit sticks (Exhibit B), which the FDA describes as "a product that is marketed toward, and appealing to, children."13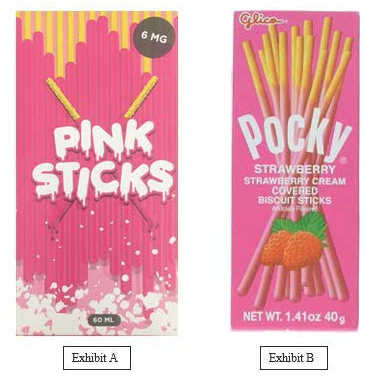 The e-liquid seller had apparently copied marketing language verbatim from Pocky, describing the e-liquid as infusing the "[d]elicious flavor of ripe strawberries into a sweet pink cream that covers crispy cookie biscuit stick."14
The enforcement blitz was the first step in the FDA's new Youth Tobacco Prevention Plan. Commissioner Gottlieb stated: "I hope this sends a clear message to all tobacco product manufacturers and retailers that the FDA is taking on this issue with urgency, and if kids are flocking to your product or you're illegally selling these products to kids, you're on the agency's radar."15
Earlier this month, the FDA issued an update on its Comprehensive Plan, identifying three new initiatives. First, the FDA will more quickly consider regulation limiting flavors, including flavored e-cigarettes and e-liquids, "should the science support further action."16 Second, the FDA is developing an e-cigarette product standard that sets "minimum, common sense standards" on an accelerated timeline. As part of the standard, the agency will consider issues like the "levels of toxicants and impurities in propylene glycol, glycerin, and nicotine in e-liquids."17 Third, the FDA is exploring ways to accelerate enforcement, particularly "when we become aware of violations affecting youth use of e-cigarettes, such as illegal product marketing to youth."18
4. New Nicotine Warning Label Requirements
The FDA's May 2016 deeming rule requires a nicotine warning label on all cigarette tobacco, roll-your-own tobacco, and covered tobacco product package labels. It is unlawful for any person to manufacture, package, sell, offer to sell, distribute, or import for sale or distribution within the United States these products without the required warning label statement on the tobacco product package.19 The compliance date is August 10, with a one-month grace period that ends September 10, 2018. By that date, all covered tobacco products must carry the following label: "WARNING: This product contains nicotine. Nicotine is an addictive chemical." If the product does not contain nicotine and is made or derived from tobacco, the manufacturer may display the alternative statement: "This product is made from tobacco." Products that do not contain tobacco or nicotine and are not made or derived from tobacco or nicotine do not need to carry the warning or alternative statement. This is the only health warning required for tobacco products under the May 2016 deeming rule. The label must adhere to strict guidelines regarding font, text, size, placement and formatting. Below are examples of how the warning labels are being displayed:20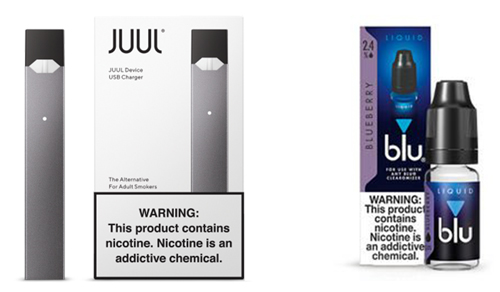 As the FDA increases enforcement against e-cigarette and e-liquid manufacturers, it is important that manufacturers ensure compliance with relevant regulations, including the new nicotine warning label requirements, as well as recent guidance on advertising and labeling considered misleading to children. Manufacturers should consider having new product launches and marketing campaigns reviewed by counsel for compliance concerns.