Atlanta (July 2016) – Several metro Atlanta teenagers recently completed an intense two–week program at Morris, Manning & Martin, LLP, to give them an overview of law as a career path. The high school internship, sponsored by the firm's Diversity Committee, is designed to encourage diverse students to enter law. The Bureau of Labor Statistics put the percentage of African-American, Asian and Hispanic lawyers at roughly 5% each of the total profession.

MMM attorneys and staff members gave presentations on writing skills, interviewing techniques, litigation, corporate/international law, pro bono work, real estate law, business etiquette, social media and business, and marketing. Each student shadowed one of the firm's attorneys and prepared research memos for other lawyers at the firm.

Activities also included a moot court competition, plus visits to the Ga. Supreme Court, State Capitol and municipal court. They also took these classes at area law schools:
The Evolution of Law Regarding Race at Georgia State University
Contract Law at Atlanta's John Marshall Law School.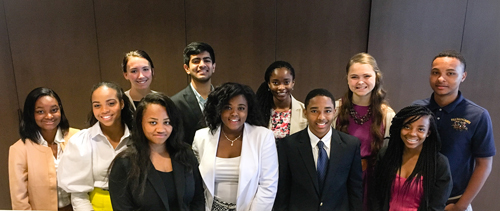 MMM's 2016 high school interns were:
Front Row: Camille Oliga, Keyrell Wingfield, Charique Furlow, Carrie-Elizabeth Smith, Robert Wilkes, Tonyia Johnson Back row:  Amy Podgurski, Muiz Wani, Imani Goodridge, Lara Strydom, Willard (Trey) Magee. Not pictured:  Aerionna Stephenson

This year's program ran from June 20 to July 1.

About Morris, Manning & Martin, LLP
Morris, Manning & Martin (www.mmmlaw.com) is an AmLaw 200 law firm with national and international reach. We dedicate ourselves to the constant pursuit of our clients' success. To provide our clients with optimal value, we combine market-leading legal services with a total understanding of their needs to maximize effectiveness, efficiency and opportunity. MMM enjoys national prominence for its real estate, corporate, litigation, technology, healthcare, intellectual property, energy & infrastructure, capital markets, environmental, international trade, insurance, and timberland & forest products practices. MMM has offices in and around Atlanta, Raleigh-Durham, Savannah and Washington, D.C. The firm also has a business development office in Beijing, China and a strategic alliance office in São Paulo, Brazil.
###

Media Contact for MMM: Terri Thornton, (404) 932-4347, Terri@TerriThornton.com