The Government Accountability Office (GAO) issued its Annual Report to Congress on November 16, 2021, reporting bid protest statistics for the Fiscal Year (FY) 2021. The chart below summarizes the statistics as well as provides a quick comparison to previous years.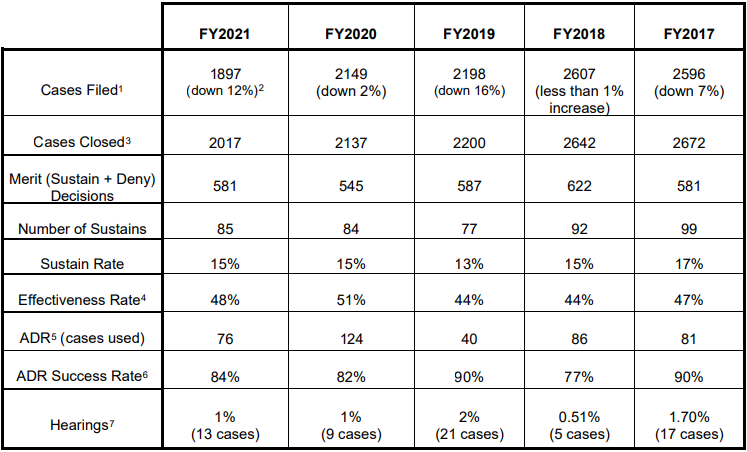 The most salient statistic is the decrease in the number of cases filed with the GAO, but as shown above, for FY 2019, such a decrease is not unprecedented. The slightly lower effectiveness rate, which includes sustained protests and voluntary corrective action by the agency, is also noteworthy and suggests that agencies were somewhat less likely to take voluntary corrective action compared to last year. Nevertheless, the effectiveness rate remains slightly higher than FY 2017 – 2019.
Potentially related to the decline in the effectiveness rate was the sharp drop in the number of cases where alternative dispute resolution (ADR) was used. Beyond the raw numbers, ADR was used in just 3.7% of cases in FY 2021 compared to 5.8% of cases for FY 2020. This rate places the use of ADR in FY 2021 trending back towards historical trends from FYs 2018 and 2017, 3.1% and 3% respectively.
Compared to last year, unreasonable technical evaluation remains the most prevalent reason for sustaining a protest. Flawed solicitations dropped from the second most common sustained protests to no longer being included in the top four grounds. This suggests that fewer pre-award protests resulted in sustained decisions this year. Instead, flawed discussions were the second most prevalent reason for a sustained protest in FY 2021. Unreasonable past performance evaluations were no longer included in the top four list, having been replaced by unequal treatment in evaluation for the fourth most prevalent sustained protest ground in FY 2021. Unreasonable cost or price evaluations remain the third most prevalent basis for a sustained protest this year.
The addition of unequal discussions and unequal treatment as two of the most prevalent bases for sustained protests suggests protestors should keep in mind that viable protest grounds may not be known before a protest is filed. It would be extremely difficult for a disappointed offeror to know if an agency engaged in unequal discussions or unequal treatment before a protest is filed and the agency report is produced. Only then would protester's counsel (under the protective order) have the ability to comb through the evaluation record and uncover any disparate treatment of offerors. The unequal treatment can then be raised in a supplemental protest. In other words, you never know what the record will hold—and whether you have a winning protest—unless you file a protest and have the opportunity to assess the procurement record.
If you are considering a bid protest—or your award was protested—please contact the MMM Government Contracts group.