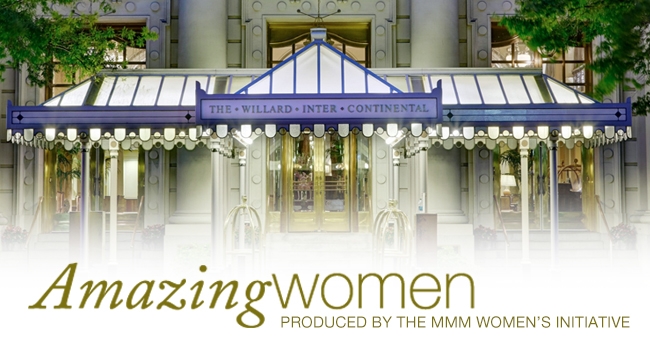 Amazing Women Event
Event Details

Join Us For An Amazing Evening With Sharon Walker 

Join us for an in-depth conversation with Sharon Walker, Associate Vice President in the Commercial Multifamily Group of Mortgage Bankers Association, as she shares insights from her career in real estate finance, including:  

The importance of female role models
Her passion for mentoring
How women have changed the real estate financial industry
Insights on the multifamily real estate market, including the impact of the government shutdown and regulatory changes

The MMM Amazing Women events are designed to motivate, inspire, connect and celebrate amazing female business leaders and entrepreneurs who are making an impact through their careers and championing women along the way.

Schedule

5:30 pm: Networking & Cocktail Reception
6:30 pm: Welcome and Q&A with Sharon Walker and MMM Partner Bonnie Hochman Rothell
7:30 pm: Audience Q&A and Networking

About The Amazing Women Event

MMM's Women's Initiative is excited to host Sharon Walker, MMM Client and Associate Vice President in the Commercial Multifamily Group of Mortgage Bankers Association. Sharon will be interviewed by MMM Partner, Bonnie Hochman Rothell, who serves on the firm's Executive Committee and is the Firm's first female Chair of the Litigation group, as well as Catherine Morgen, the Chair of the Women's Initiative and a partner in the Real Estate Development & Finance practice in Atlanta. Bonnie has worked with Sharon for over 25 years and is excited to discuss the changes in the real estate financial industry and not only how it has impacted women, but also how women have impacted this industry. 

Prior to joining MBA, Ms. Walker worked at member firms such as RED Mortgage Capital, Walker & Dunlop, and PGIM (formerly Prudential Mortgage Capital Company).  She has extensive experience in multifamily real estate finance specifically in servicing and asset management having been responsible for managing portfolios of HUD insured properties including multifamily, assisted living and hospitals. She has also had responsibility for direct management, training and development of asset managers, team leads and supervisors.  During her entire career, Ms. Walker has been an advocate for women in the real estate finance industry.  One of her greatest passions has always been mentoring and helping others achieve their goals for personal growth and career advancement, especially helping other women since she has benefitted from the help of mentors, coaches and advocates throughout her own career. She had an amazing opportunity as co-lead of the Dallas chapter of one of Prudential's Diversity Resource Groups - the Black Leadership Forum, which provided staff members with access to networking opportunities and events, and provided a platform for individual professional development and growth. Sharon has a long history with similar efforts as a member of various associations including the Urban Bankers Forum in Chicago and National Urban League.   As an advocate for women, she served on the Board of the Legacy Counseling Center in Dallas, and volunteered for Dress for Success, American Red Cross and other charities.   We are looking forward to an intriguing discussion on hot topics impacting women and affecting the real estate financial industry.

Thursday, March 28
5:30 - 8 pm 

The Willard InterContinental
Buchanan Room
1401 Pennsylvania Ave NW
Washington, DC 20004

Questions? Please contact Kate Pearch.